Friday, July 28, 2006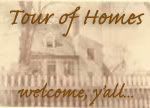 Welcome to my little home in the 'hood! It's nothing fancy, but it's a cozy little place and it keeps us safe and warm. It's also what's allowing us to build our next home. (Equity is our friend!)
So c'mon in! The tour will be a little short, because I have to leave for work in about 20 minutes and the puppy will still need to go out, but feel free to linger as long as you want! If you want to see more homes on the tour, go see
BooMama
. There's a list of participants at the end of her post today.
First stop - my front door.
Blogging Central
Main Living Area? These days it's here, with Raz running around us.
For the time being, my kitchen has become Puppy Central.
One of the cutest spots in my house these days.
There it is. Short and sweet. And I gotta run! Thanks for stopping by and taking the tour! Be sure to go visit the other homes on the tour as well!